LIVE AKTION: FREE MUSIC IMPULSE #8 // FORMA // ARNOLDSTEIN, AUSTRIA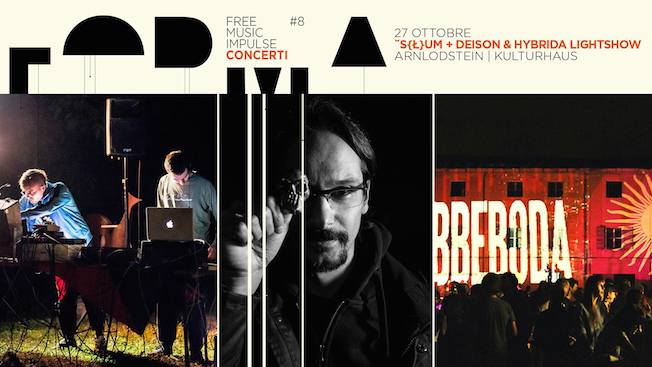 DEISON + HYBRIDA LIGHT SHOW
FORMA Free Music Impulse #8
Venerdì 27 ottobre
Kulturhaus | Arnoldstein, Carinzia (Austria)
INGRESSO GRATUITO – FREE ENTRY
---
LIVE AKTION: HARVEST 2017// DORDOLLA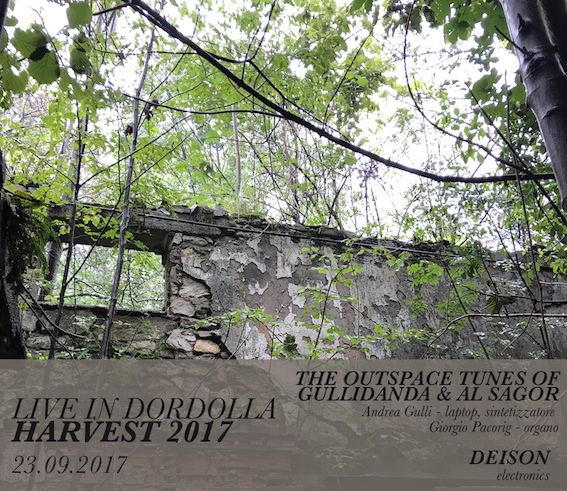 ---
TILIAVENTUM: DEISON /MINGLE NEW ALBUM // OUT NOW
Ci sono voluti alcuni anni perchè il progetto Tiliaventum vedesse la sua realizzazione.
Ideato da Deison Cristiano e Sandra Tonizzo è nato assieme all'esigenza di rendere omaggio al Tagliamento, il fiume su cui vivono.
Non è un tema originale e molti, in diverse modalità, lo hanno già raccontato.
Dei centosettanta chilometri del Tagliamento loro conoscono una porzione minima, quella che attraversa la Bassa Friulana in cui il fiume diventa sempre visibile.
Come ogni corso d'acqua ha una storia segreta ma, in questo caso, la sua è una anche una storia sotterranea e misteriosa.
Anche se è facile, soprattutto in queste zone di risorgive, dove l'acqua sgorga ovunque, dare per scontata la sua presenza.
Apparentemente un fiume qualsiasi (dal passaggio su uno dei suoi ponti può sembrare solo una distesa grigia di sassi) è invece un ecosistema estremamente prezioso ed è ritenuto l'ultimo corridoio fluviale intatto delle Alpi. Per la sua conformazione primordiale viene studiato da ricercatori di tutto il mondo per rinaturalizzare altri fiumi urbanizzati.
La storia di questo fiume si dipana in un groviglio di meandri azzurri che cambiano continuamente e che da una stagione all'altra danno coordinate diverse: Cambogia senza le guglie dei templi, Caraibi col ghiaccio nell'acqua e che dall'alto sembrano il sistema arterioso umano.
E' una storia fatta di continui cambiamenti, la sua, in cui il fiume con la forza delle piene ha trascinato e cancellato invece quella che l'umanità ha cercato inutilmente di edificare sulle sue rive; mentre lui, Tiliaventum Rapax et Ferox (così lo aveva denominato Plinio il Vecchio) coi suoi sedimenti ha costruito la pianura alluvionale della Bassa Friulana.
Il Tagliamento è un'entità viva e pulsante. Sotto al suo letto c'è potenza in continuo movimento; c'è liquido che si agita e filtra sotto metri di ghiaia pronto a deflagrare in un nuovo corso, nell'intreccio unico e irripetibile dei suoi canali.
Era quindi necessario far intervenire altre persone, altri contributi fatti di musica e segni per raccontarlo; e partendo dalle sue rive cercare altre anime per rappresentare la sua complessità (come è complesso l'intreccio dei suoi rami e come è pieno di colori il suo letto apparen- temente grigio)
L'idea non era quella di realizzare un tributo meramente documentaristico; c'era piuttosto l'intenzione di suggerire immagini, storie, parole che evocassero questo corso d'acqua.
L'andamento sonoro contiene delle istantanee che descrivono diversi aspetti del fiume: il suo scorrere sempre in modo diverso ("Arteria"); la sabbia e i sassi ("Savalon" e "Pietra Viva"); gli spiriti che lo popolano ("Agane" e "Ajar e Aghe") e infine i rifiuti che si trovano sul suo greto immaginando da un pezzo di una vecchia piastrella che potesse provenire dai paesi in cui quaranta anni prima c'era stato il devastante terremoto ("21.00.12").
A condividere questa visione e a far scorrere il fiume sonoro ideato da Deison e Mingle hanno contribuito:
un pugno di ghiaia di Tony Longheu (Yton) e Lorelei Facile su "Tiliment"
colpi e battiti di Matteo Dainese (Il Cane) su "La Piena"
onde dall'altra riva di all my faith lost… su "Grave"
manciate di sassi di Alberto Novello (JesterN); rami e foglie di Maba (Len) su "21:00:12"
elettronica fangosa di The Haunting Green; corde vocali di Anna; plettro, claps e corde storte di xoX su "Ajar e aghe" (testo di Anna Comand)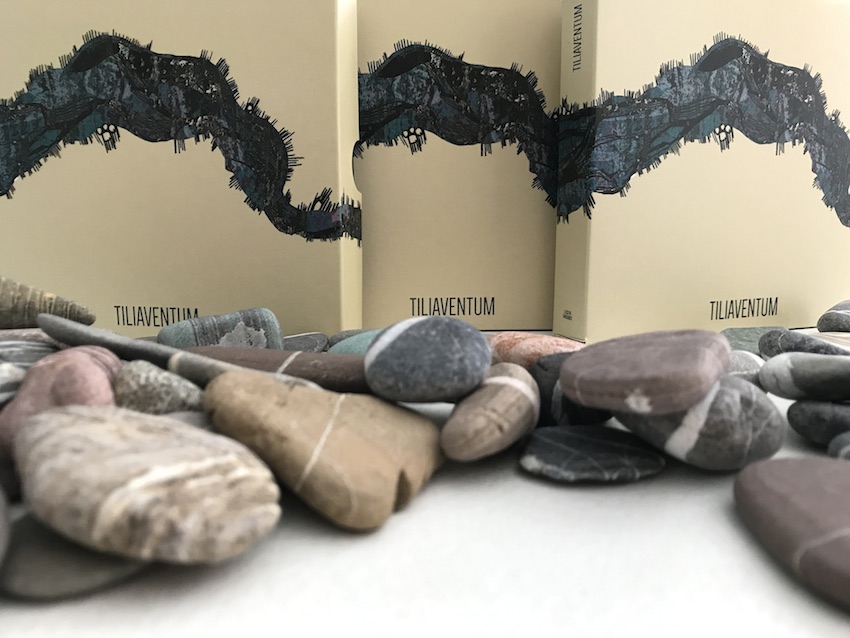 ---
LIVE AKTION: RAID ON // INCURSIONI SONORE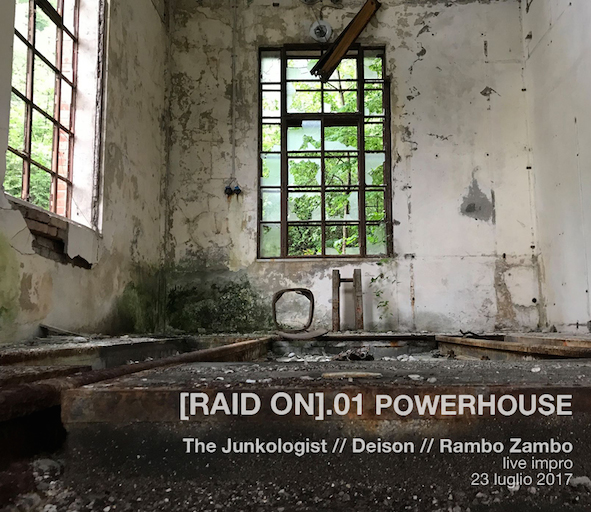 ---
LIVE AKTION: RAID ON 00 // INCURSIONI SONORE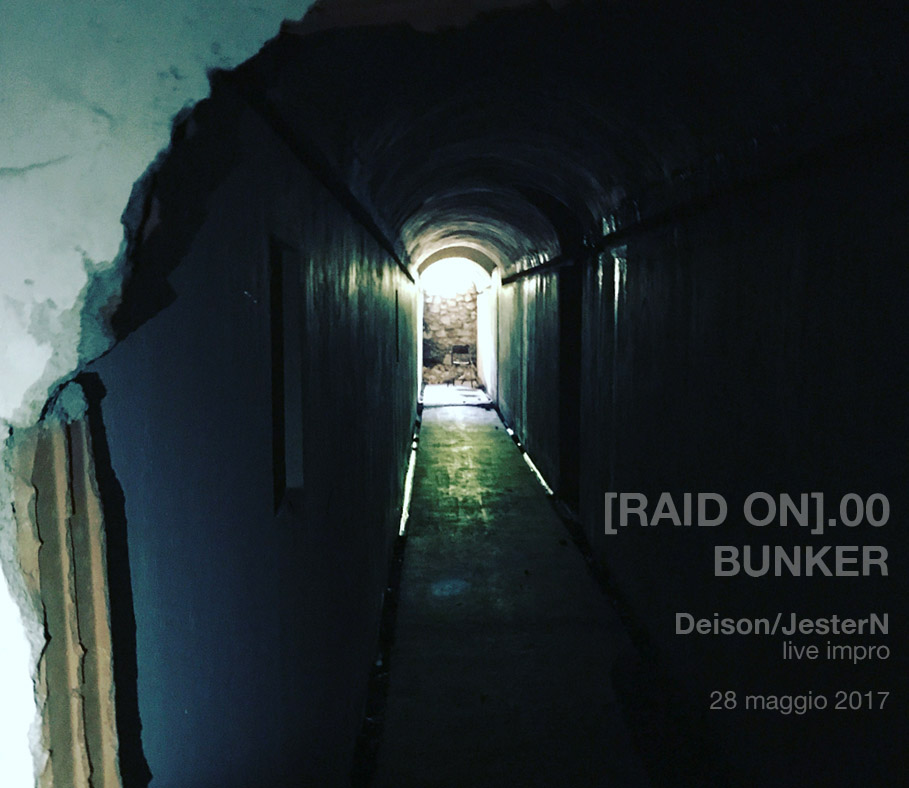 ---
DEISON | MINGLE: INNERSURFACE | NEW ALBUM // OUT NOW!
After crossing wastelands lost in oblivion (Everything Collapse[d], Aagoo / Rev. Lab., 2014), and being skeptically moved by listening to pulsations of a weak life (Weak Life, Aagoo, 2015), Cristiano Deison and Andrea Gastaldello (aka Mingle) are arriving at their final destination, Innersuface, the last stop on their journey. They suddenly fall into a hole and are trapped in a slimy pit overflowing with mud and industrial liquids. Everything is dense and oppressive. Their physical movement stops, the chaos in their head remains, they look around and everything is irreversibly changed. And while looking at the road they have just walked along, they glimpse the edge of a forest brimming with life, with its appearance unchanged over time…will it stay like this forever?
Created, recorded and mixed between December 2015 and April 2016, at Mingle's Tower Home Studio and Deison's 1st Floor Studio, Innersurface continues the perfect blend of Deison and Mingle sounds: drones, field recordings and processed loops superimposed with disturbed rhythms, distorted beats and electronic processing. As always, the electronics are dirty and extremely evocative, sounds that we have become accustomed to.
Deison: Electronics, Processing.
Andrea Gastaldello (Mingle): Electronics. Treatments.
Mastered by James Plotkin.
Produced by Andrea Gastaldello, Cristiano Deison and ST.AN.DA.
Graphic design: Deison.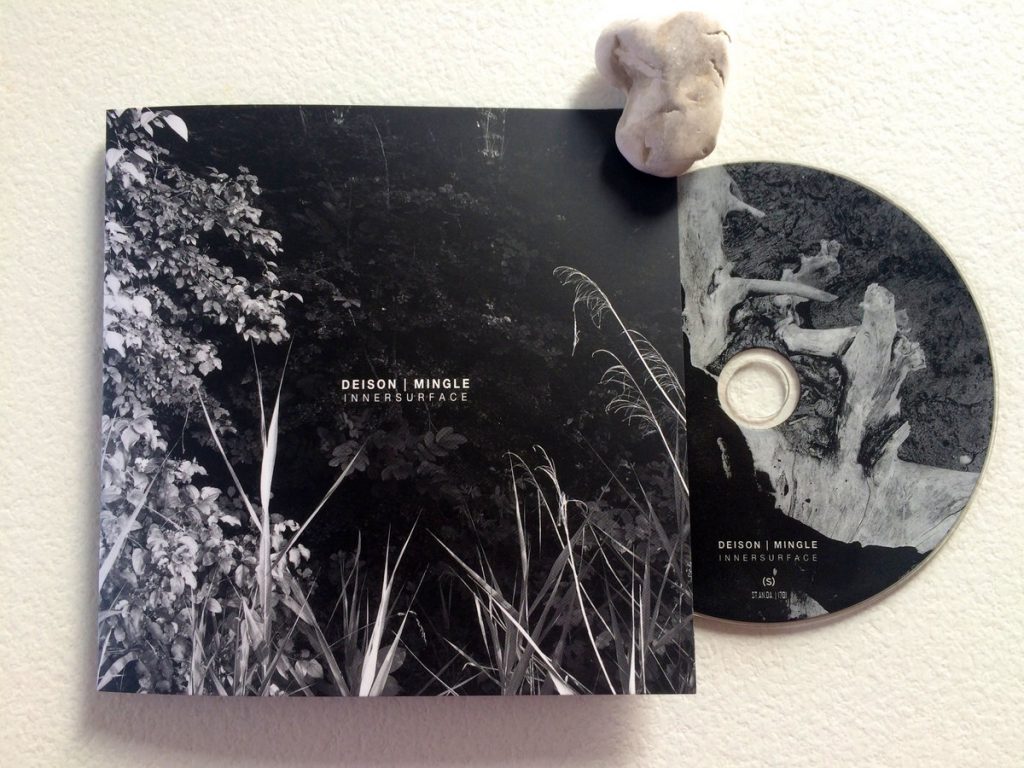 ---
LIVE AKTION: STRANGE CORRESPONDENCES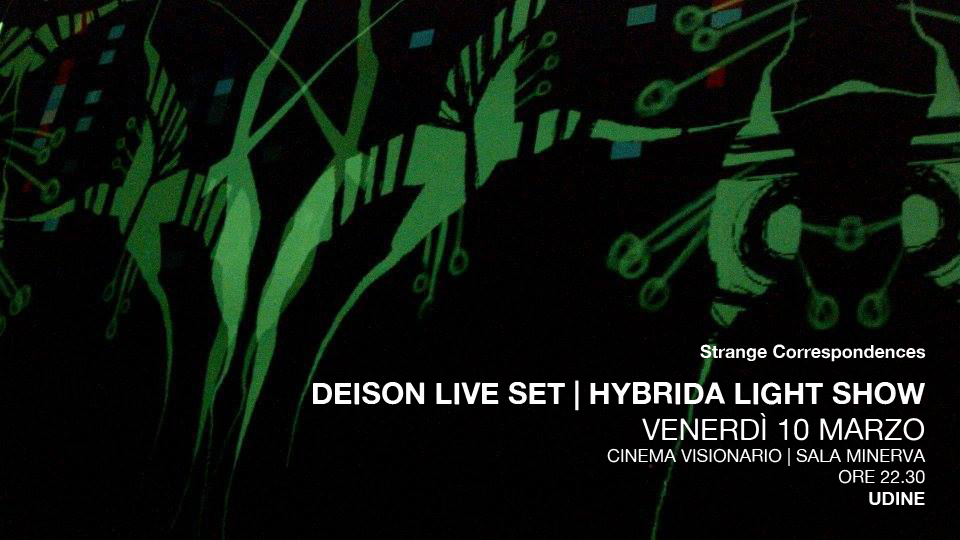 ---
DEISON: MUTAZIONI C-30, CASSETTE OUT NOW
A C-30 tape is out now on Italian label Dokuro (DK064) ; featuring unreleased tracks from latest recording sessions: evolving loops of the sound of silence and noise from abstract debris.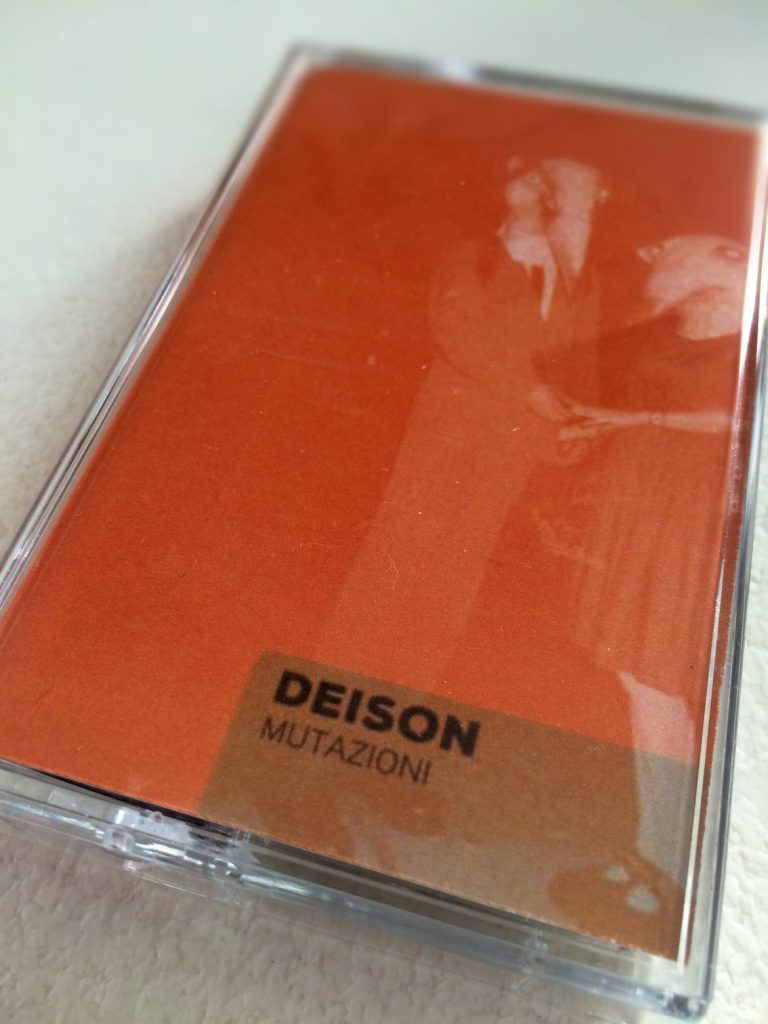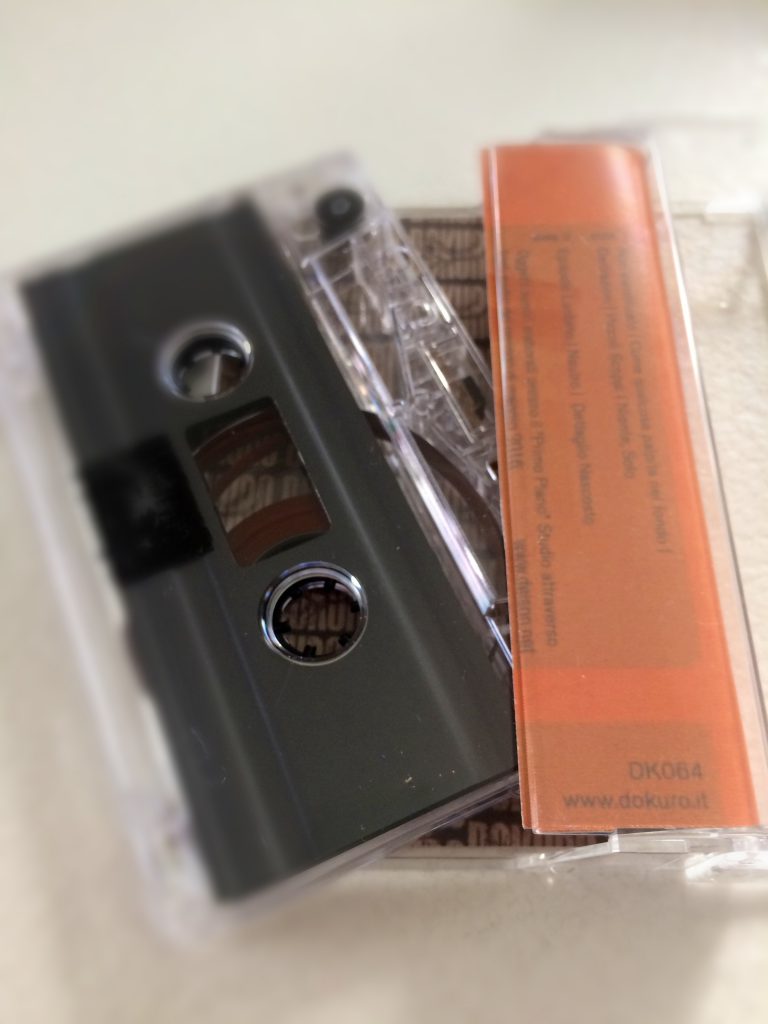 "Ogni istante ha la sua musica irripetibile che si fonde con la luce e con l'aria dell'ambiente".
"Every moment has its own unique music that blends with the light and with the ambient air"
(Enore Zaffiri, 1968)
---
DEISON: RECORDINGS 1996-2016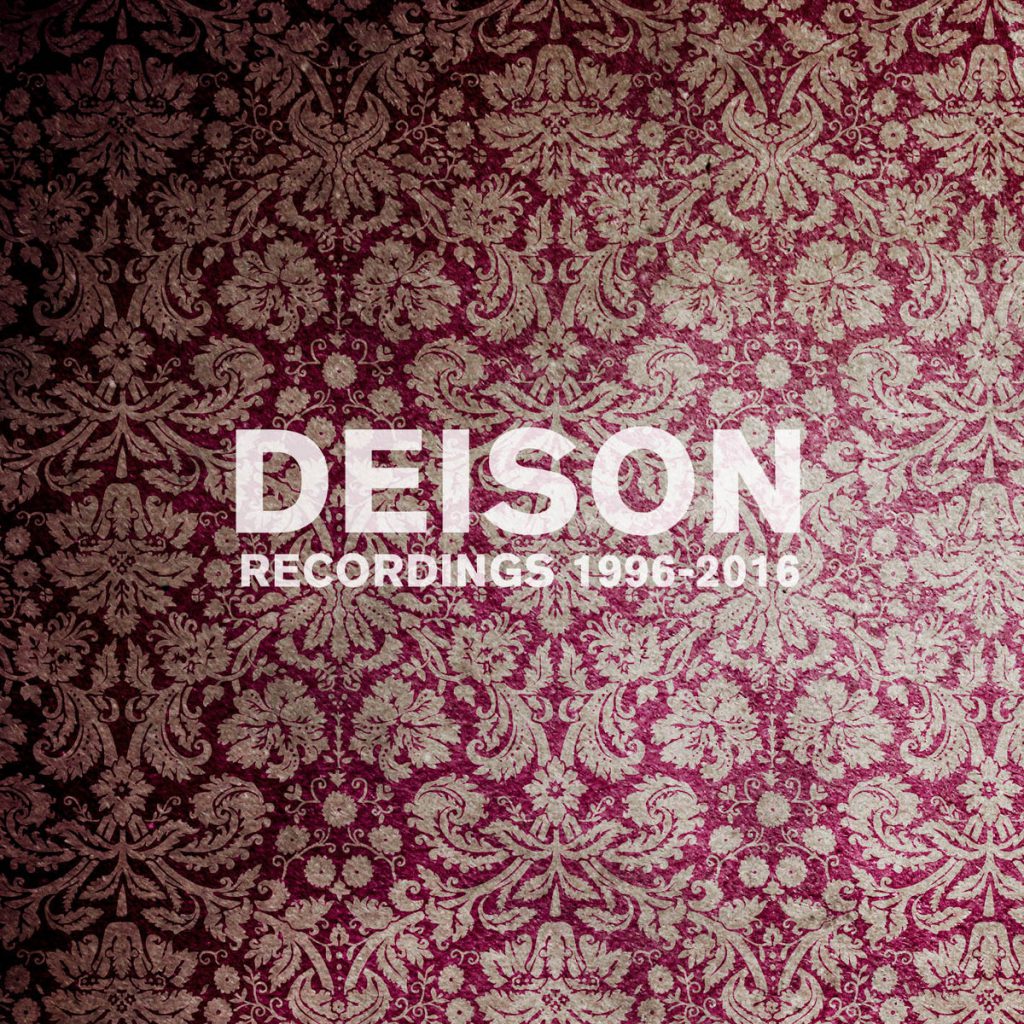 This compilation is a collection of tracks of the musical output by Deison to celebrate 20 years of activities.
42 tracks from the period 1996-2016 which appeared on various releases, singles or on compilations, or were never released; rare tracks from obscure compilation contributions, early cassette-tracks and various (un)released loop-manipulations, remixes and collages! Enjoy!
It contains also the original first tape-release (1996) and self-released first 7″ vinyl single (1999) on his own Loud! label.
The earliest recordings on this compilation are tape collages with tape recorders, turntables and objects mainly in the field of experimental noise.
---
DEISON: FULL LIVE VIDEO
DEISON | LIVE – Klub Gromka – Metelkova mesto – Ljubljana – Slovenia – 27.11.2016 [FULL SHOW] by Misanthrope ToN FilM.
---
DEISON: NEXT LIVE AKTIONS
03.12 – Spazio Aereo | Marghera (VE) (with Kk Null & Balazs Pandi)
27.11 – Klub Gromka, Ljubljana, Slovenia (with Kk Null & Balazs Pandi)
---
DEISON: LIVE AKTION IN TRIESTE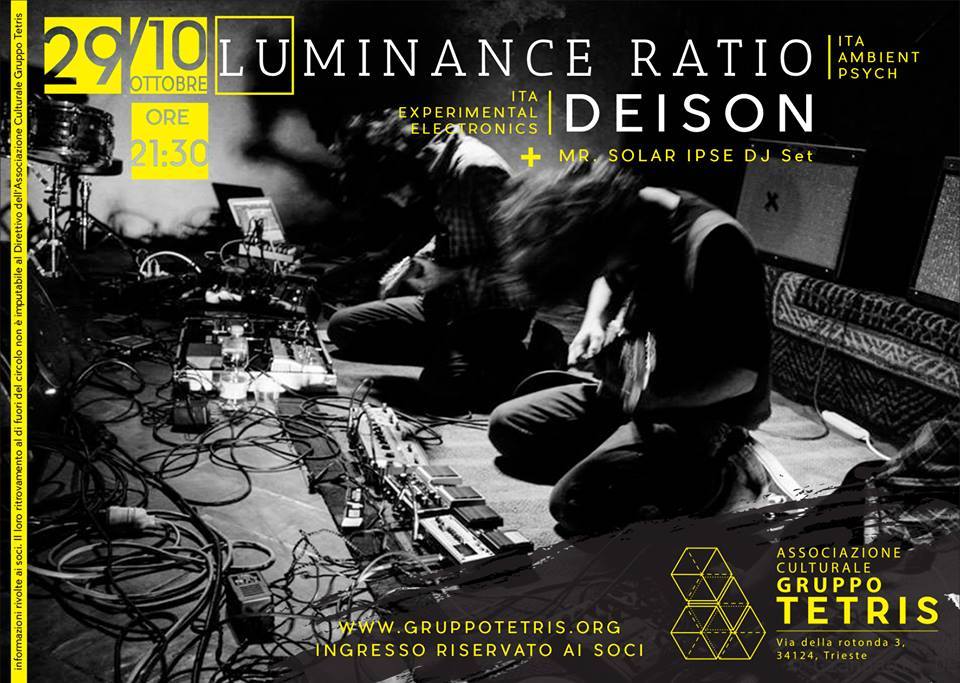 ---
DEISON: ANY TIME NOW CD // OUT NOW
"Any Time Now" out on September,13th, 2016
Released by Many Feet Under and Loud! [#mfu/c 009 / #loud!cd09]
Limited Edition / digipack / cd-r /100 copies

Recorded and mixed in the last 3 years "Any Time Now" is the new solo studio work by Deison after several collaborative projects (with Mingle, Maurizio Bianchi, Uggeri, Favaron); the record is focused on small sounds, interferences and long slow-moving drones captured to explore the perception of time.
It's a dirty electronica to suggest a different listening, any time…now!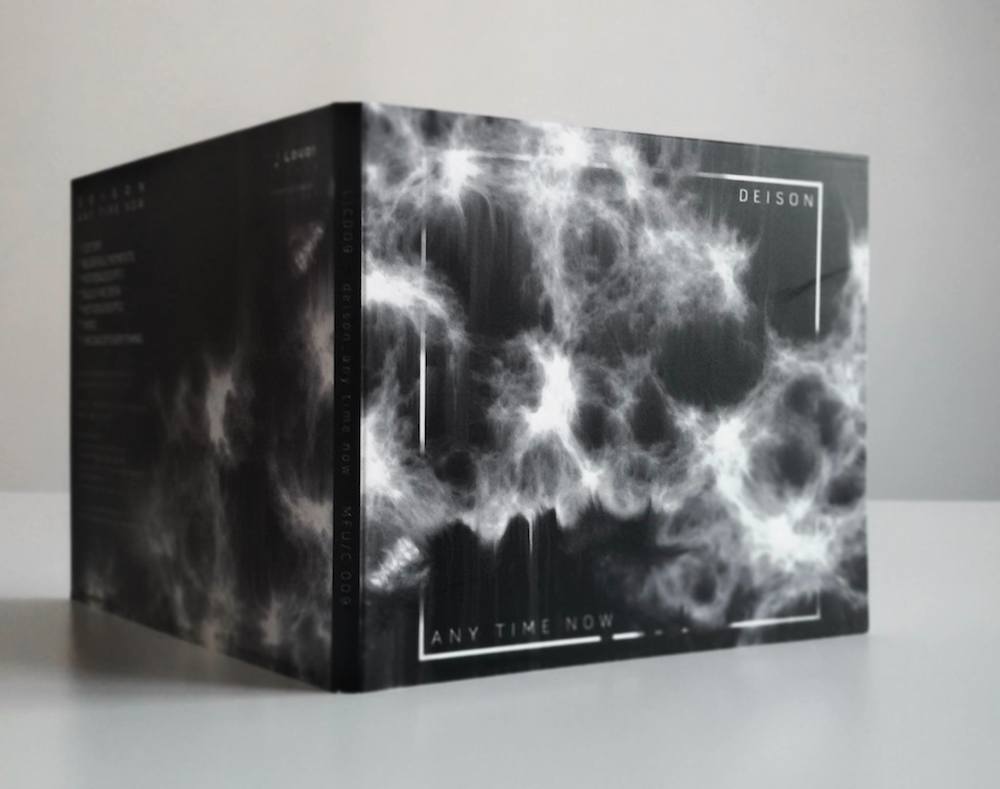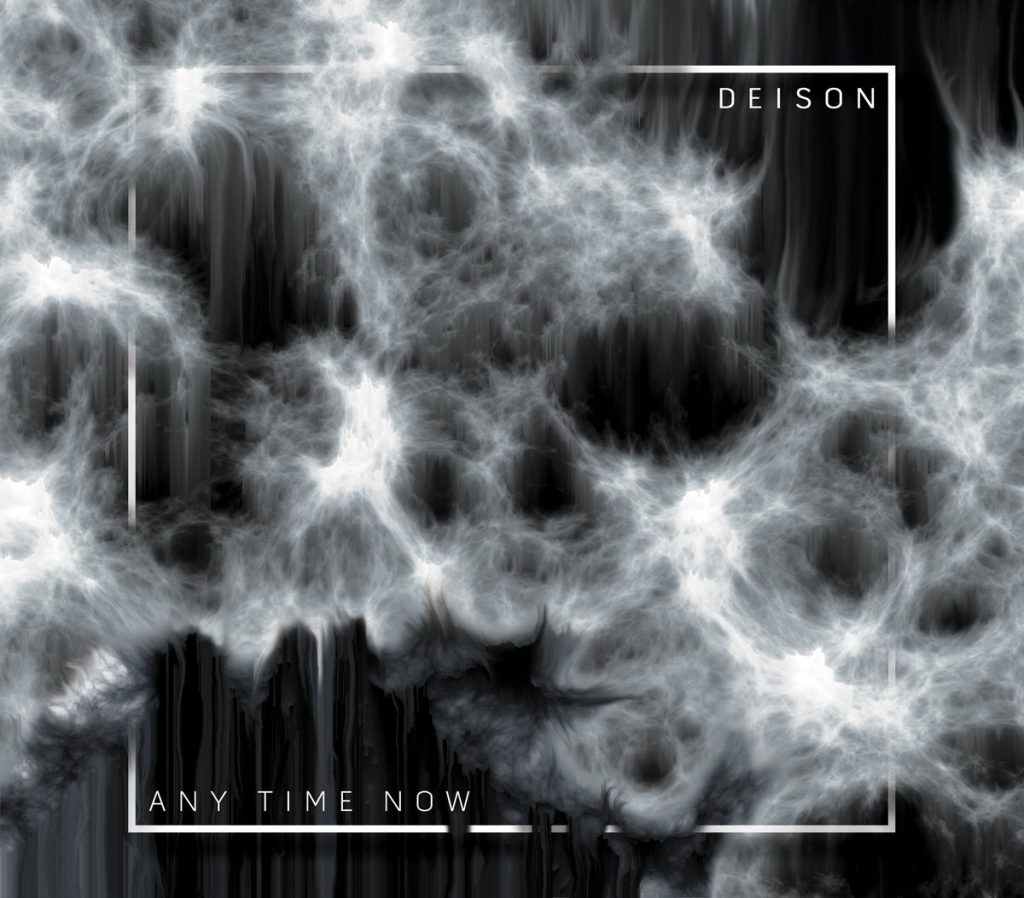 ---
DEISON: IN-DEPTH INTERVIEW ON PAYNOMINDTOUS
---
DEISON & FAVARON: LIVE AKTION IN MILANO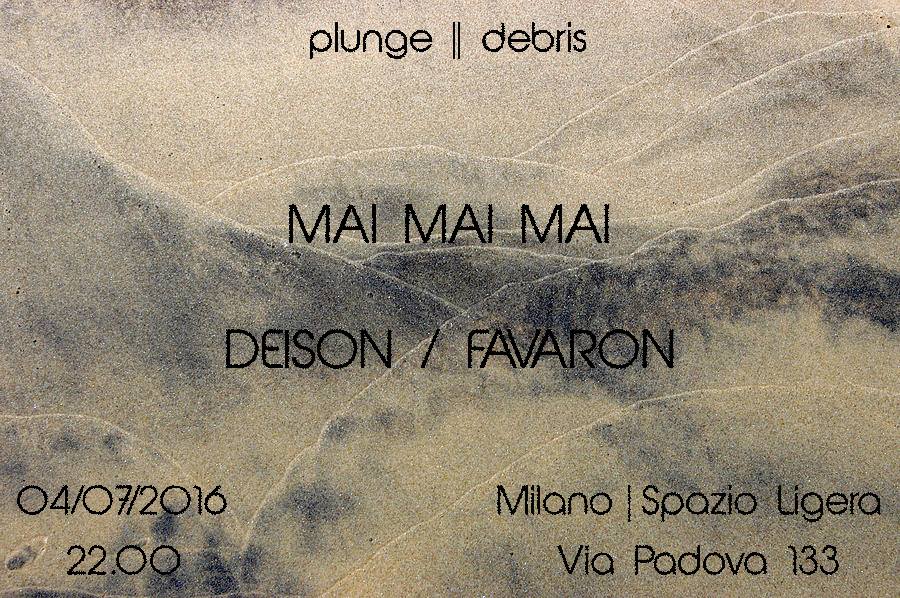 ---
DEISON & FAVARON: LIVE AKTION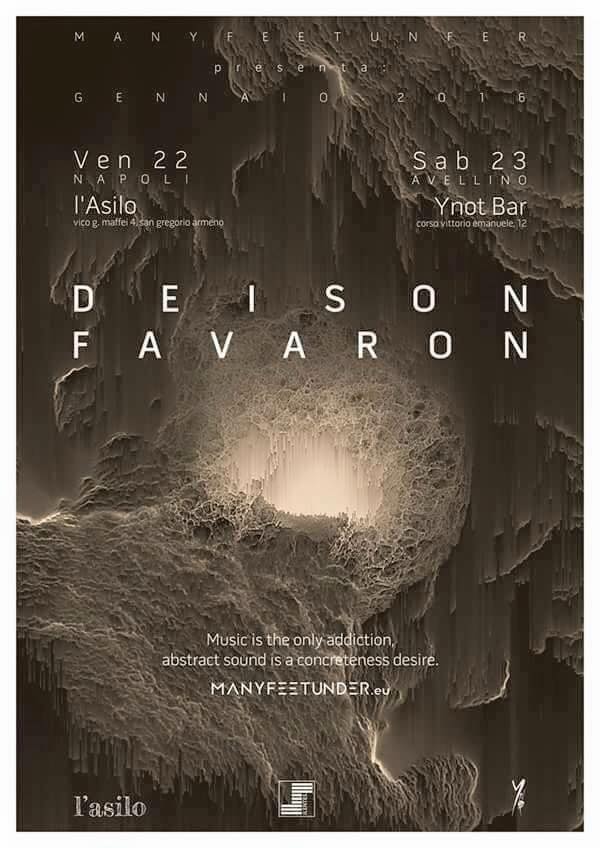 22.01 – Napoli, L'asilo
23.01 – Avellino, Ynot Bar
---
CIANO BLU MACHINE
Domenica 22 novembre CIANO BLU MACHINE, "Azione Sonica" di gruppo presso l'ex Filanda a Bertiolo (UD), senza spettatori …solo generatori sonori !!!
---
DEISON / FAVARON – NEARLY INVISIBLE (CD)
Cristiano Deison and Gianluca Favaron met in 2011 when the latter was a guest on Deison's "Night Sessions" album on Silentes. Both involved in many projects and music collaborations – Favaron with Lasik Surgery, Maribor, Zbeen and Under The Snow, and Deison with Mingle, Matteo Uggeri and Maurizio Bianchi – during the summer of 2015, at last free from previous engagements, they finally decide to mix their sound attitudes and give life to "Nearly Invisible", an album where they process concrete sounds, field-recordings, digital impulses and analog tapes. A sort of "rational improvisation" where the two artists have a conversation talking through the sounds of their surrounding realities. A slow overlapping of contaminated drones, embedded with manipulated noises describes "nearly invisible" environments visually captured by the companion pictures taken by Stefano Gentile. Rough images, textured, dirty; details that open windows onto landscapes where you can recognize panoramas, shadows and structures. All of this is presented in a high quality package, also available as a limited "art edition".
"Nearly Invisible" is released in two different editions:
– a standard edition of 230 copies (CD + Book)
– a limited "art" edition of 13 copies housed in a 12″ gatefold handpainted cover that also include one original photo (size 26×26 cm) + CD + Book
---
DEISON LIVE RADIO AKTION
VENERDI 23 OTTOBRE saro' ospite di Alberto Collino nella trasmissione radio UP! su Radio Onde Furlane dalle 19 alle 21, ascolteremo un paio di dischi e proporro' un mini live set in studio! Stay tuned!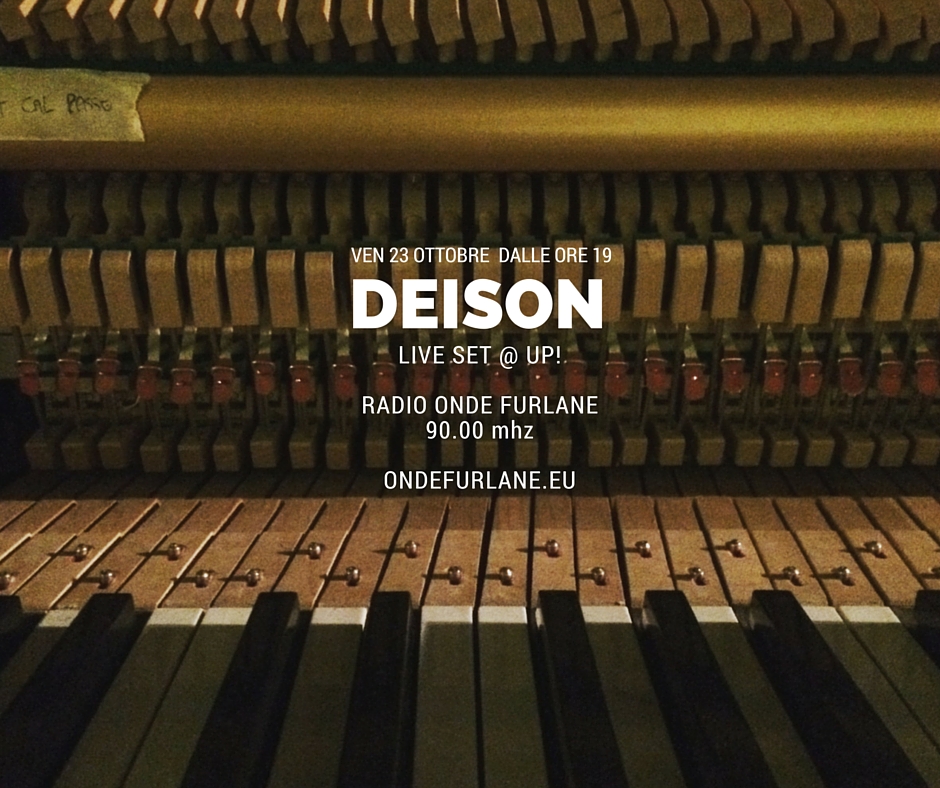 ---
DEISON LIVE AKTION
GIOVEDI 1 OTTOBRE | ORE 21.00
FREE MUSIC IMPULSE #6
c/o CIRCOLO ARCI MISSKAPPA via Bertaldia 38, Udine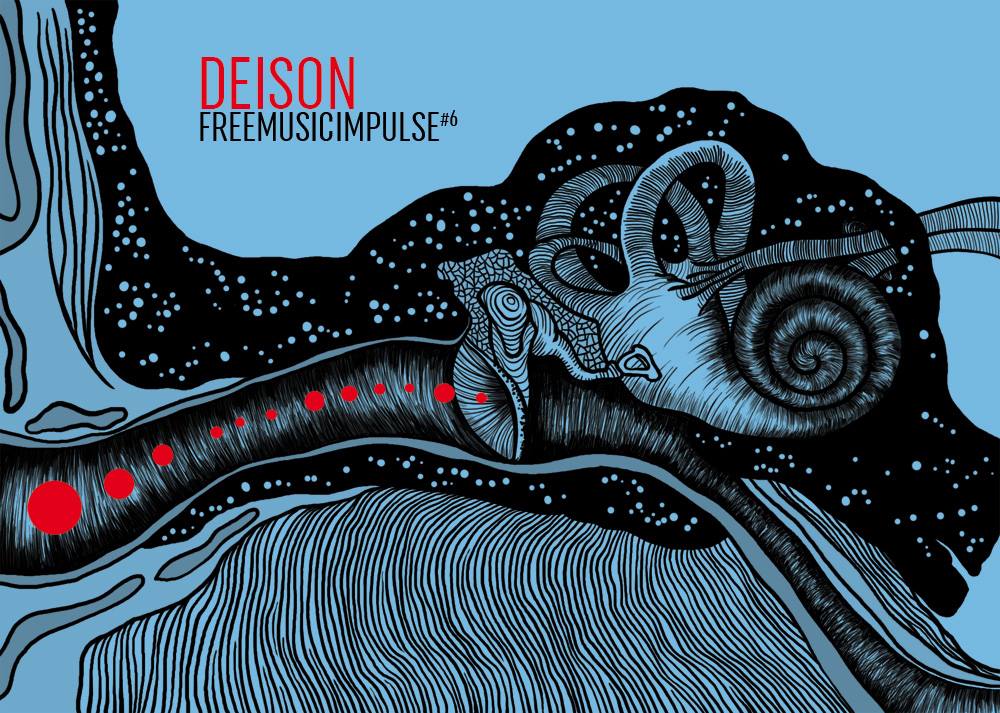 ---
DEISON / MAURIZIO BIANCHI – BLACK PANORAMA (CD)
OUT NOW on Final Muzik ! Limited to 200 copies only.
After 2 years of its recordings Final Muzik release this new collaboration which I'm very proud; for this recording were used some old analogue tapes from MB's archive then manipulated and edited.
One of the best Maurizio Bianchi's collaboration works and one of the best Deison's albums. Period. Music for black landscapes. (Final Muzik)
"Prologue: The title can already say a lot of contents. When we see ahead of us a view from the inside and we see another, the two views collide and according to our state of mind we can see a negative panorama or a more positive one. That's why this work will help us to regain our peace of mind or to lose it forever, while remaining unchanged the view before us" (MAURIZIO BIANCHI).(Final Muzik, FMSSD02)
Maurizio Bianchi is a non-musician in activity since August 1979. He came from the punk movement in the mid-seventies and started his first innovative and incomparable industrial-project under the moniker Sacher-Pelz with the home-made cassettes Cainus (1979), Venus (1980), Cease To Exist and Velours, later collected on Mutation For A Continuity (Ees'T). They were all-instrumental collages of electronic sounds. Mectpyo/Blut (1980) was the first cassette to be released under his own name. Then came a very prolific phase in M.B.'s musical career, with LPs plus many tapes and contributions to compilations between 1981 and 1984: Symphony For A Genocide (Sterile, 1981), possibly his most terrifying work, Nh/Hn (Grafika Airlines, 1981), Menses (Mecptyo Sounds, 1982), making him a pioneer in terms of noise and industrial music. His music was characterized by uncompromising, noisy musique-concrète-abstractions, produced by turntable, loops and tape-recorder and very different from any other industrial band of that time, obviously influencing a multitude of modern artists working in the extremes of sonic art. His complex non-melodic wall-of noise-arrangements were described as "psychic cerebral works that seem to spring from a neuro-atomic continent" to make psycho-neurotic sounds. It was a sort of defragmentation of usual music into several atoms of unusual non-music.
The sound he creates at that time is the result of permanent frustration in life, love, religion and politics reflecting his inner soul of that time and expressed his condition of being lost in a web of own sounds and nightmares.. the experimental field being the only one where he can completely express his freedom, researching emotional sound sculptures.
---
DEISON / UGGERI – IN THE OTHER HOUSE ( LP/CD)
A new collaboration album is out on June,1st. After2 years after its recording "In The Other House" will see the light on a limited edition vinyl LP and on a strictly limited edition on CD with beatuful artwork curated by Deison and Uggeri.
It's published by Final Muzik, Old Bicycle Records, Oak Editions, Loud! and Grey Sparkle.
It was not born as a concept album, but as it was slowly becoming like the music inside it the sound work of Cristiano Deison and Matthew Uggeri ended up finding itself, step by step, enclosed between the narrow walls of an exceptional home. Arriving there from different places and positions, and never actually meeting, Friulian and Milan found themselves, perhaps in spite of themselves, together in uncomfortable rooms which were populated by dark invisible presences. It is not the scenario of a horror movie, there is no tradegy or fear, just the knowledge that somewhere else or the escape itself may be less reassuring than one has hoped. Therefore Francesca Mele's photos, both a seal of the work and source of inspiration for the music seem to further cloak the place in that sense of quiet desperation that daily life often implies.
---
DEISON @ SCENASONICA, PN BOX TV, PORDENONE 17.04.2015
---
DEISON | MINGLE: WEAK LIFE | NEW ALBUM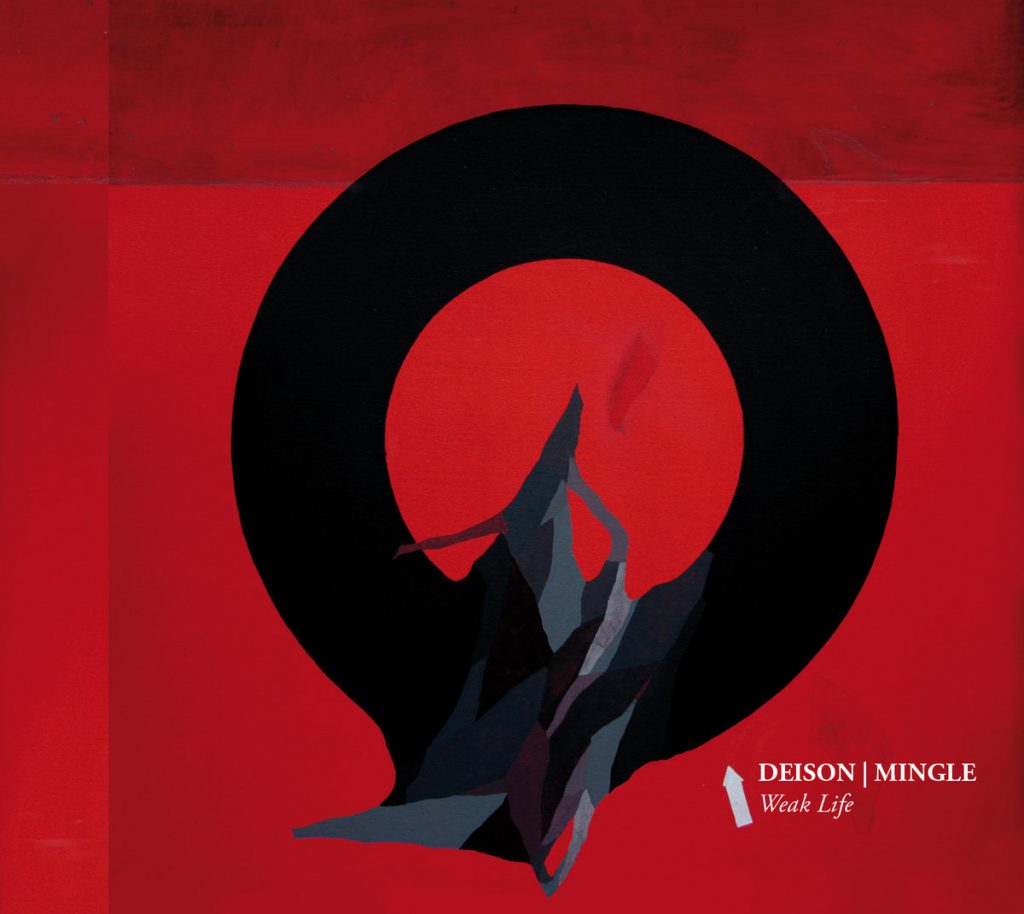 We're excited to be starting off 2015 with the second release of the project DEISON & MINGLE, returns with the anticipated follow-up to their critically acclaimed "Everything Collpase(d). Spring 2014: Cristiano Deison and Andrea Gastaldello (aka Mingle) continue the work which began with "Everything Collapse[d]"(Aagoo/Rev.Lab.) and the Ep Low Blood Pressure (Final Muzik), crossing the wastelands where everything has collapsed and is lost in oblivion, driven by a constant and lazy motion. The idea is that of moving forwards skeptically, maybe meeting someone or something, maybe not. You do not know.
The important thing is to stumble through the rubble, the tangles and fragments of broken ideas…listening carefully to the pulse of weak life. Assembled, recorded and mixed by Andrea Gastaldello and Deison at Tower Home Studio and 1st Floor Studio, Italy between march and july 2014, Weak Life carries on the perfect union of Deison and Mingle's sounds: drones, field recordings and processed loops onto which disturbed rhythms, distorted beats and electronic treatments are inserted. As always these are dirty electronics which are extremely evocative, to which we have become accustomed.

---
LIVE AKTION 12.12.2014
Venerdi sera suonerò a Udine, a Cas'Aupa nella terza edizione di "Anabasi" Festival di Musica Elettronica e di Confine, alle 21.30….se interessati siate puntuali perché ci sono anche altri gruppi (e io suono per primo).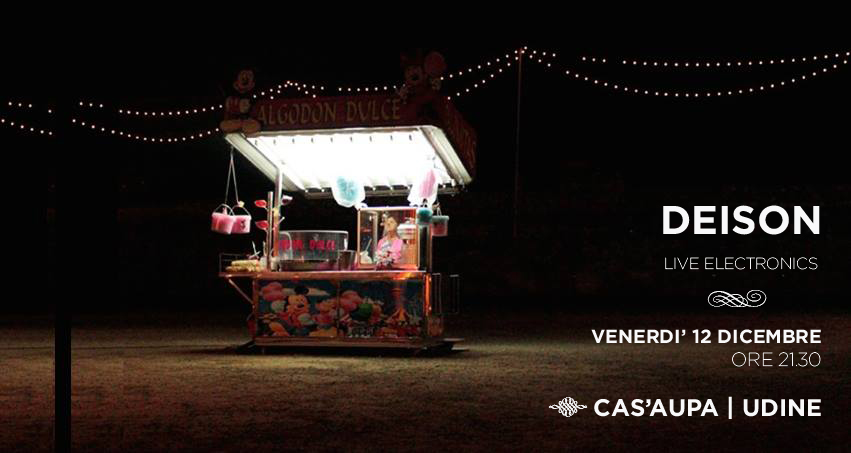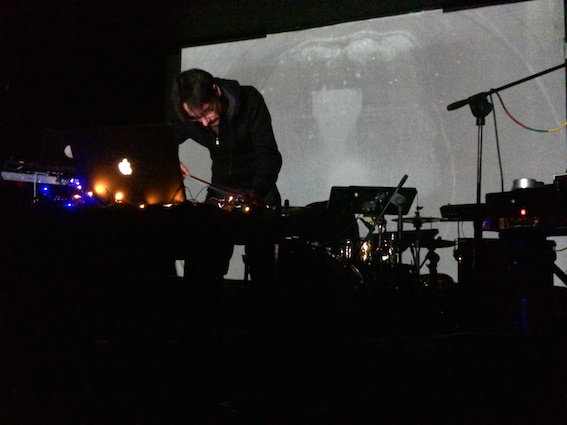 ---
TEHO TEARDO – Le retour à la raison, Villa Manin, 7 dicembre 2014
I had the pleasure to play (together with 20 guitarists) with Teho Teardo for Man Ray exhibit ar Villa Manin in Codroipo (UD) on december 6th and 7th. Great sounds, nice people and at the end an enormous wall of sound.
---
DEISON | MINGLE: EVERYTHING COLLAPSES NEW VIDEO
New fantastic video directed by Mery Favaretto
Avalable on CD/LP( Aagoo records)
---