DEISON
(digital, Loud!, 2016)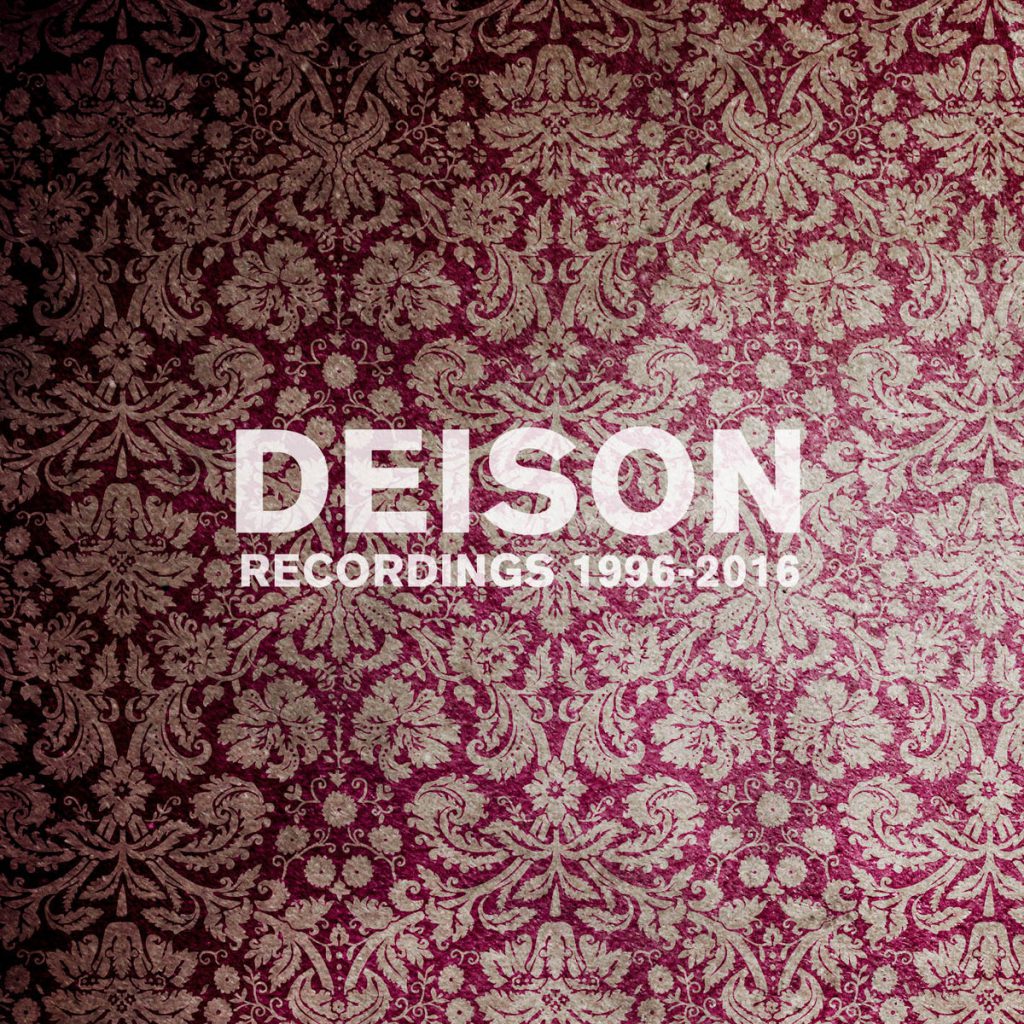 Free Download
(digital, 2016)
1.(.) 00:45
2.Piano Theme From Nowhere 09:12
3.Picture in a Frame 06:49
4.Mariae Nascenti Remix 04:40
5.Untitled 5 01:17
6.Sad Place 06:16
7.Nervo Vago 01:00
8.Untitled 23 02:04
9.No one listening, but you 08:32
10.Low Silence 02:36
11.Un'altra ragione per tagliarsi un orecchio 04:30
12.And so On 03:09
13.Pure 03:50
14.Frame 1 01:37
15.Ground 02:01
16.Intermezzo 01:12
17.Buildings 02:20
18.Frame 2 05:10
19.Aftermath Of A Lengthy Rejection Slip 03:36
20.(..) 00:41
21.Confidential 05:57
22.So Slow 03:59
23.Micronerve 02:03
24.Cuore Nero 05:00
25.Exhibition 05:17
26.Dream:Morphology 03:06
27.Inside Sources 04:58
28.Trashcan Oildrum 03:46
29.G.Neurus 07:06
30.Deisonic rmx (solo un minuto) 01:10
31.Itch (Inertia 071) 05:57
32.Frequency side A 18:37
33.Frequency side B 12:32
34.Kneel Down 05:24
35.Silenzio Side 1 14:29
36.Silenzio Side 2 10:03
37.Cayendo Remixed 04:32
38.Frame 2 02:30
39.Frame 5 05:26
40.Subsurface 05:30
41.What it Takes to Be a Man (Black Plastic Bag-Deison remix) 04:11
42.Tragic (sevendust mix) 04:48
This compilation is a collection of tracks of the musical output by Deison.
42 tracks from the period 1996-2016 which appeared on various releases, singles or on compilations, or were never released.
It contains also the original first tape-release (1996) and self-released first 7"vinyl single (1999) on his own Loud! label.
The earliest recordings on these discs are tape collages with tape recorders, turntables and objects mainly in the field of experimental noise.
Deison operates with loops, field recordings and drones to develop swirling electronic sounds of enormous range and complex musicality. Waves of looping deep ambient scapes, penetrated with sample fragments and light additional noise-ambient textures form Deison's silent, minimal frame-set.
Deison: tapes, radio, turntable, mics, fx, synth.
Released December 1, 2016
---
RECORDINGS SU ROCKERILLA
Si va oltre l'idea di musica come semplice nastro trasportatore di facile ascolto legato a schemi conosciuti, quasi sempre prevedibili, immutati nel tempo, testimoni di un obsolescenza iterata che li vuole comunque portatori di arte quando l'essenza stessa di quest'ultima pulsa in altro luogo, lì dove al termine musica si preferisce usare la parola 'suono' seguita dalla definizione 'sperimentale'. Il mondo della sperimentazione italiana ultimamente sta subendo delle modifiche, visto da fuori è un universo praticamente invisibile che acquista notevole rilevanza se lo si scruta dal di dentro. Decine di strane creature lo abitano ma sono poche, a nostro avviso, quelle che realmente producono diversità sonora. Cristiano Deison è una di queste, alle spalle una carriera ventennale iniziata nei Methead e proseguita con molteplici collaborazioni e l'avvio di una propria label, la Loud! A cui si è unita la Final Muzik di cui è co-fondatore. Solitamente si è abituati a pensare ai sound artists stranieri, quando si ascoltano tracce di caratura elevata, lo si fa automaticamente senza tener conto del suono prodotto nella nostra penisola. Prendiamo ad esempio la tredicesima traccia del lavoro di Deison: Pure. Potrebbe tranquillamente apparire nell'ultimo album di Biosphere, tanta è la fascinazione ambientale che emana. Recordings 1996-2016 racchiude quanto fatto da Deison compresa la prima registrazione su cassetta del 1996 e il suo primo 7″ del 1999. Suono che si muove nell'area sospesa della ricerca, lì dove il silenzio richiede il sostegno della curiosità e dell'intelligenza per riuscire a decifrare un mondo colmo di suono a venire. SUBSURFACE. (Mirco Salvadori, Rockerilla, n.439, Marzo,2017)
---