DEISON
(CD, Crionic Mind, 2000)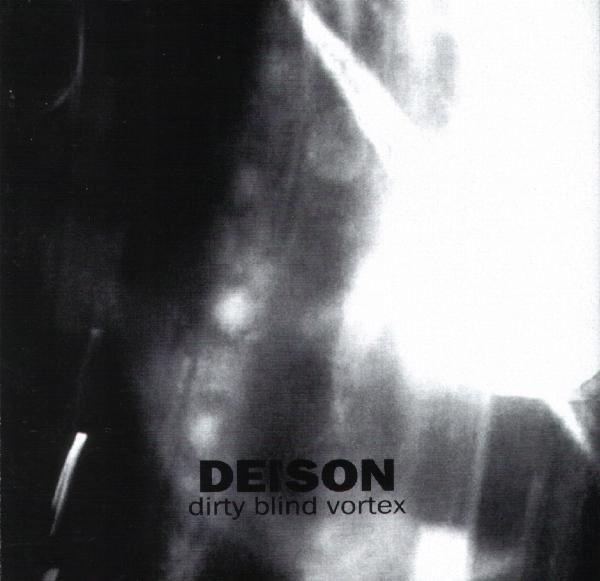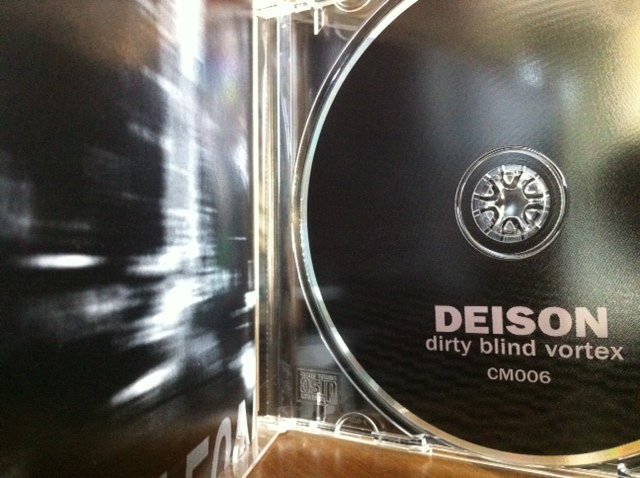 Dream:Morphology
Inside Sources
Novamalia
Lodge, hlny
Silenzio
Vortice
Pasadena, 1953
Out of Spasm
Symptomatic Headache
Terminal Suck Sick (remix)
Automatic Pain II (remix)
Dirty Intercourse (Corrine's Psychoanalysis remix)
A fuming miasma of desiccated frequencies and oppressive atmospheres from this Italian purveyor of Death Industrial & Dark Ambient. "Dirty Blind Vortex" is a cryptic snarl of emotion and obsession, impulse and lethargy. Features contributions from SSHE RETINA STIMULANTS, GOVT. ALPHA, BAAL, R.H.Y. YAU, LASSE MARHAUG and more. Limited to 500
Noise, sounds recorded/assembled/mixed at "sonic bedroom studio" Dec. '98 – Feb. '99, Udine, Italy. Mastered at Gench Studio, San Francisco – July '00 by Thomas Dimuzio
DIRTY BLIND VORTEX ON OUTBURN
Grimy black noisescapes: Italy's Deison creates murky noise full of rusted tones seemingly derived from ancient machines that wearily grind, sputter, screech and exhale. There is grit here, and grime, as Deison sinks dirty fingers into the anatomy of noises, extracting timbres that agitate as they fascinate, layering said timbres until the distinction of each sound is nullified. The ensuing noise bleeds together, congealing into rhythms that sluggishly pulse and drag, an exercise in tape manipulated attrition. Throughout, sonic nerves twitch nakedly like metallic cilia from disemboweled machines, the twitch scratching like nervous fingernails on blank cranial blackboards, heightening the discomfort. The looped scrape and crusted shimmer of noises that pulse through "Dream: Morphology" are sutured together with a weird vocal sample dealing with arm surgery. A looped, slowly eroding slingshot tone, sounding sick and weary, rides the subcutaneous rumble of "Novamalia." "Vortice" is a gurgling miasma of voice samples flushed down a blackened, greasy drain, punctured by a higher-pitched tuning fork tonality, resulting in a compressed tsunami of noise. A looped symphonic sample is wound backwards, above a horrific cloud of radiation devouring everything in its path during the pensive "Pasadena, 1953." This sonic miasma grows expectedly murkier as the track progresses, before crash and tumble factory noise ambience rises to upend the onslaught. Grating tones squelch and stutter, frequencies bent into obscene sonic origami, during the head-splitting rage of "Symptomatic Headache." A slew of underground noisicians (including Sshe Retina Stimulants, Lasse Marhaug, Baal, etc.) contributed noise and sound fragments, but it's all brought to (frenzied) fruition by the mastery of Deison. Very Recommended!
---
DIRTY BLIND VORTEX ON AVERSION
8/10 – 12 tracks of highly intriguing dark ambient/industrial electronics, including sound source submissions from the likes of Government Alpha, Baal, Lasse Marhaug, and more. The disc ends with three remixes, taken on by someof the artists who contributed source tracks to be manipulated by Deison. Each piece here is intelligently arranged, with sufficient movement and logical transitions between each change. The recording is quite clear, and the tonal range is excellent. Also helpful is the tasteful length of each track, never venturing into unreasonably long, redundant passages. Samples are used at times, and perfectly integrated into the compositions without any awkward separation. I'm impressed by the use of unusual loops and textures to create eerie, rhythmic patterns. Lots of subtle structure is present, and many tracks seem to gradually diminish in number of layers as they progress. Even harsher tracks like "Vortice" or "Out of Spasm" have enough feeling to be interesting and not traditionally stagnant. The final remix, "Dirty Intercourse", taken on by Baal, is just over 12 minutes of dismal, bass-heavy ambience. Hypnotic, and by far the strongest of the remix tracks. The layout here is minimal and loaded with dark, abstract images – this is par from Crionic Mind and always works perfectly. Great work, a very nice release. [Notable tracks: Dream:Morphology, Lodge, Hlny, Pasadena, 1953, Dirty Intercourse]
---
DIRTY BLIND VORTEX ON SPECTRUM
Deison is a name that I was familiar with, but not so with the actual music up until hearing this album. So after this introduction for me, a broad overview of Deison's style is that it runs the gamut between sinister dark ambience and oppressive death industrial motifs. Grinding and obliquely tuneful, "dream:morphology" is a dense looped soundscape with dialogue sample being derived from David Lynch's "Eraserhead" which adds to the bleak yet slightly surrealistic edge. Radio frequencies and sporadic voices blend together with fractured sound layers on "inside sources" to a bleak conclusion – as does "novamalia" but rather opting for a bass soaked and muffled industrial sound with slight orchestral undercurrent. Whipping the atmosphere into an electric frenzy, "lodge, hlny" is rather chaotic and somewhat improvised with loose groupings of loops and sharper textures that resemble electric wire distortion, whilst the sparse shimmering minimalism of "silenzio" is sporadically punctured with bursts of machine looping clatter to add to the oppressive aura. With the writhing electronics and fog like atmospheres of "Out of Spasm", it laboriously accrues intensity to become rather weighty by the time it has passed its five minute length. "Symptomatic Headache" creates the track with the least muffled production with sharp and twisted electric pulses swirling at a higher sonic range. This higher end, sharper sonic edge is again replicated on "Terminal Suck Sick", however there are less aspects to the sound stratum thus creating a broader electric oriented air. Diving headlong back into death industrial musings, "Automatic Pain II" is quite fantastic with orchestral undercurrent that is massacred with full warfare samples (machinegun fire blazes, bullets whisk by close overhead). Final album track "Dirty Intercourse" clocks in at over 12 minutes, being a broad soundscape of dense undercurrents with more improvised textures sounds, samples and malfunctioning machine idling noise laid over the top. In that it appears that Deison has collaborated on various tracks with sshe retina stimulants, government alpha and baal (among others) it has resulted in a more diverse sound palate between compositions whilst retain a specific genre focus. Having said that, the album is sonically dense and tonally bleak to create an album of cruel musical intentions.
---
DIRTY BLIND VORTEX ON FUSARIUM
When I thought of Deison, I'd expect harsh old school death-industrial in the vein of Cazzodio, at least for this album this is not true. Deison from Italy brings a mainly death-ambient orientated piece of music to the surface with "Dirty blind vortex"…. To cut things a bit shorter, I owe you all of the following information, which makes up for part of the sounds and compositions of what one cab find on this album. Additional noise-inputs and textures were contributed by following artists: Lasse Marhaug, Sshe Retina Stimulants, R.H.Y. Yau, Government Alpha and Baal…. Calm waves of looping deep ambient scapes, penetrated with sample fragments and light additional noise-ambient textures form a dark and suffocating cloud of inner desolation. "Dream morphology", thus an appropriate title, touches ground with a cold atmosphere, which most likely gets you in a dream-like state if only this track would be a bit longer. Followed by "Inside sources" the music takes a change and enters a realm of feedback orientated layered collages, sparks of gasping noise, lo-fi elements and samples eventually make place for more melodic feedback combination, to eventually end up in lo-fi minimalism. The previous sample surfaces again and the overall atmosphere falls down in a gap of rustic death-ambient…."Novamalia" at first made me think of a track of Memorandum, but w/h the percussion then. This is though not what to find here, the mood sets forth in indeed a heavy delay-effected dark ambient smoke-screen. After that it becomes a bit more active in "Lodge, hlny", getting disturbed with looped objectnoises, crackling and quirky sounds. Some sounds are played backforward and all this takes place in a silent, minimal frame-set, ending in a deep ambience…"Silenzio" goes a bit unnoticed, as it might well be a continuation of the previous, though here we again enter in a more obscure realm, a desert where no sunshine will ever set feet, if at all the moon. Mindtaking dark waves of ambient control the flood of sounds that slumber through this ever dark dream… The following 7 tracks as well remain active in the death-ambient field with mostly a lot of delay-effects which in their turn cause a claustrophobic, deep and dark atmopshere. Further Deison with his fellow companions explores more disturbing noise manipulations in between the calmer moods, yet these are mostly placed in a minimal frame-set, but completely break loose in "Symptomatic headache" for example… where the sound definitely goes in the direction of what I first expected to find on this album, recommended for the likes of Cazzodio fans. It even seems that this last part of the CD is of a more noise and disturbing nature, just like I hoped it to be. "Terminal suck sick (remix)" with contributions of Lasse Marhaug, forms a dense sound wave of gasping static ambient-noise pulled in a rather light melodic texture, reminds of Bad Sector. Very interesting!… "Dirty blind vortex" shows us that there's still enough unexplored electronic sound-combinations and noises out there to come up with a creative, original and varied mixture of death-ambient, lo-fi minimal, source sounds, industrial and noise to attract one's attention. Rated 8/10
---
DIRTY BLIND VORTEX ON RECYCLE YOUR EARS
The only thing that I had heard from Deison before this album was his track on the Loud! In Your Ears vol. 2 compilation and that was remixed by K2, so I have difficulty counting that. After many cassette releases, compilation appearances, and a 7″ release, this is the first widely available release from this Italian artist… They say that it takes a village to raise a child, and it certainly took a village to create this album with collaborations and remixes by Sshe Retina Stimulants, Lasse Marhaug, R.H.Y. Yau, Government Alpha, S. Isabella, and Baal. I did not see this as a bad thing until I realized that tracks 5,7,and 8 are the only ones that seem to be entirely Deison's creation… That aside, this album lives up to the pedigree of those creating it. There is something for everyone on this album. Whether you like dark ambience, crunchy noise, or high pitched squalls, this CD has you covered. This CD opens on a mellow note leaving you a bit unprepared for what follows. The standout noise track on this disc was "Out of Spasm" with a nice balance of high and low pitches that seem to fight back and forth for dominance over a sea of bass noise and static… For those of you who like your music a bit more subtle, "Dirty Intercourse" (remixed by Baal) was a great finish to this disc. This track has a nice layer of ambience with a looped conversation just out of reach that gets occasionally interrupted by high pitched noise… This is a great album. However, with contributors of this caliber, I would expect nothing less. I just wish that it was called "Deison and friends" or something. On the other hand, my favorite track on the disc was written solely by Deison, which leaves me wanting to hear more of his releases. This disc is limited to 500 copies, and if it is typical of other Crionic Mind releases, it will be gone by this time next year. If you are a fan of any of the contributors, you will not be disappointed.
---
DIRTY BLIND VORTEX ON RE:MOTE INDUCTION
Dirty Blind Vortex is the first full length CD release by Italian Deison. Released on the American Crionic Mind label as a run of 500 copies, this 12 track CD features sound contributions and remixes by various artists. In terms of "noise & sound fragments" there are 3 pieces involving Sshe Retina Stimulants and 1 with each of Lasse Marhaug, RHY Yau and Government Alpha. While there are mixes by Lasse Marhaug, S. Isabella and Baal. Listening to this album the tracks that stand out the most are Dream: Morphology, Silenzio, Terminal Suck Sick and Dirty Intercourse. 
The first track on the CD is the subdued Dream: Morphology, a rounded, fog bank of sound, fluctuating shifts edged by chugging and chromatic contrasts. Through this texture a voice repeats, part of the deceptive mass – turn it up and you start to get a feel for the potential of this formation. Silenzio starts with spatial oscillations, echoing dimensions and a mildly creeping distortion twisting a cycle through that. This sparse sound is a 3D scape, hypnotic movement of lights. As it goes on there is a more pronounced and grinding spin then a return to the drawn out tunnel, though this contrast soon returns. In some ways this is a really simple sound but it's effect in immense and striking. 
Terminal Suck Sick is a brittle, buzzing, wire of a piece, as mixed here by Norwegian Lasse Marhaug. this just radiates energy, building as a marble on a downward spiral, backed by a deepening bas and an intensity that physically penetrates. A wonderful rush that requires no further description. The last track on the CD is Dirty Intercourse (Corrine's Psychoanalysis remix) as mixed by Baal. Works on establishing a sound density and with that an atmosphere. starting with a certain motorised hum and clank into which a clatter of voices loop along with a periodic rumble of crushed noise and a spinning top of electronic swirl. The layers and strength of sound elements are what make this work, enough going on at all times to immerse yourself in. 
Along with those tracks, "Inside Sources", "Vortice", "Pasadena, 1953", "Out Of Spasm" and "Automatic Pain II" are all good tracks. As with Dream: Morphology, Inside Sources features fragments from fellow Italians Sshe Retina Stimulants and starts off as a rumble of sound, high signal and a layered mish-mash of voices. Along with the buzzing stream of chaos there is a droning fluctuation through the core. The piece streamlines to the core in a scrawling, textured buzz – fragmented and coherent, particulate and smooth. Vortice has some of the same principals going on but is a jumbo jet engine roar rather than chatter of radio signals. There are disruptions within the stream, bass fluctuations and moments where voices might be audible. A whine cuts through the core of the Vortice, its fluctuations forming a distinctly contrasting structure within a scape of shattering glass. Falling to a dull rumble as it eases off to Pasadena, 1953. A constant levelled rumble starts up with a melody winding up in that. wind sweeps in a gritty manner as the lost tune continues to try and establish a ghost of an impression, while the tearing noise streams differentiation and resistance to the grit, though for some time that attempt at melody is gone. Compress, choke, strained conclusion and that tune is suddenly to the fore with its brass splendour. 
With little cuts of grit comes Out Of Spasm, though chunky junk clatters and exhaustive spurts layer into the choke and stroke stream. A twitching noise mosaic that repeats the splintered elements to provide the over riding pattern. Continuing with the high pitched piercing tone of Symptomatic Headache, some kind of wail working in with a mechanically driven, rotary blade. This builds p, not rumbling like a lot of the material here, but all clamouring to be heard, determined to give you that headache – combat helicopters, dentist drills, plummeting elevators. With a sustained tone and a static strip over a muffled vocal sample we have Automatic Pain II as remixed by S. Isabella. Gunfire and smashing glass, ricocheted shots and that tone can only sustain so long. The detritus takes over, a vocal sample becomes clear – "I want to go home!". The tone is re-established over a squalling clamour of noise invective. As with some of the other pieces, there are hints of melodic structure, but that's a stray thought as dozens of TVs show dozens of channels all at once. 
---
DIRTY BLIND VORTEX SU MUSIC CLUB
Si resta in tema di grey-area per segnalare l'ultima fatica del sintesista udinese Deison, un CD a lunga durata alla cui realizzazione hanno collaborato diversi ospiti, fra cui Lasse Marhaug e Sshe Retina Stimulants. "Dirty Blind Vortex" è il trionfo dell'anti-musica, dadaismo sonoro allo stato puro che forse esprime il senso metafisico del vuoto oltre la materia, o che magari rappresenta soltanto un modo di esorcizzare le paure del nostro tempo in una fuga verso il nulla iperreale… Le note di copertina non forniscono suggerimenti e non recano illustrazioni se non l'immagine in negativo sulla copertina del disco, indecifrabile e spettrale come le dodici tracce allungate dagli autori drone dopo drone, incubo dopo incubo, ombra dopo ombra… Pronto per le charts uffficiali del 2525…
---
DIRTY BLIND VORTEX ON WORM GEAR
My only experience with this Italian project before this CD – his first digital release apparently – is his contribution to the excellent 3-cassette The Decay of Cities boxset, and, although that tape is great, Dirty Blind Vortex far surpasses it. I've heard some refer to this as death industrial but that really only partly describes what's going on here as this turns out to be quite a varied, albeit uniformly dark, release. Ultra-low bass rumbles become beatless rhythms interspersed with strange, manipulated sampled voices and almost melodic passages floating above and through the thick noise. On the one hand is the eerie death ambient drone and machine loop combination of "Silenzio," or the particularly haunting "Inside Sources" with it's melancholy pseudo-melody line/feedback juxtaposed against snippets of Italian radio broadcasts. Pieces like "Symptomatic Headache" and "Vortice," on the other hand, are violent, densely layered power electronics-like assaults. Sound source contributions and remixes courtesy of such dignitaries as Sshe Retina Stimulants, Lasse Marhaug, BaaL and Government Alpha add immeasurably to this dark, beautiful disc. Released simultaneously with the KK Null/MOZ split on our very own Scott Candey's Crionic Mind, this is likewise limited to only 500 copies and is also just as strongly recommended. 
---