DEISON AND THURSTON MOORE
(7″, Loud!/Sin.Org.,1999)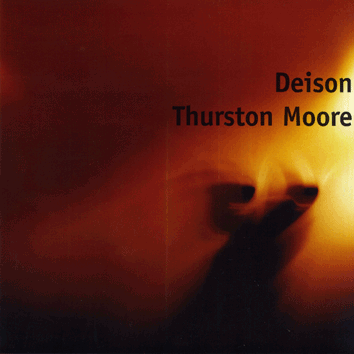 A1. G.neurus

A2. Deisonic rmx:solo un minuto

B1. Super tuscan
A historic " vinyl split-single limited to 400 copies. 'Good uncle' T. Moore offers an unreleased track of guitar feedbacks and sonic effects and Deison presents a 7 minutes noisy manipulation + a '1 minute' Moore's track remix. Yes, Thurston is that guy from that band from NY !!!
g.neurus" performed by Deison
sound assembled & recorded at s.b.s,udine,italy-feb.í99
by c.deison.
A2.-deisonic rmx:solo un minuto"
decomposed and re-assembled by Deison at sonic bedroom studio,
march 31, 5.32/33 pm.
voices:chiara & tonigi sun.
B1."super tuscan" performed by Thurston Moore
recorded at wine country, nyc march 16, 1999.
engineered by Luc Suer.
DEISON AND THURSTON MOORE ON THE WIRE
His ultra-limited collaborative release between two italian noise labels locks italian tapenoise nut deison in a head to head with Thurston Moore,who is lovingly adressed here as "the good uncle". Deison's cement mixer approach to loops and intereference brings to mind Lydia Lunch'sfantastic description of Sonic Youth: "I think:hurricanes,volcanoes,storms". With his hand on tremolo, Moore triggers frantic ripples of feedbackand hiss. The other side features Deison's "Deisonic remix", which is 60 seconds of ludicrous guitar-piled collage.
---
DEISON AND THURSTON MOORE SU ROCKERILLA
Singolo da culto:sperimentazione pura e follia acustica in chiave industriale assai spinta.
---
DEISON AND THURSTON MOORE SU RUMORE
Segnali di vita dalla scena italica del rumorismo estremo, all cui indomita verve sotteranea porge omaggio niente meno che Thurston Moore,spartendo un 7″ in vinile limitato con Deison. Il sonico inedito "Super Tuscan" un imperioso drone di feedback ad alto voltaggio, acui tengonotesta i nerissimi e magmatici loops del partner friulano.
---
DEISON AND THURSTON MOORE ON SIDELINE
If one is into subversive noise manipulation, Deison is an up-and-coming master (already? yes!) of such sonic parcels, evidence found on these two excellent 7″ records. The split single opens with "G. Neurus," the claustrophobic sound of blood pumping out of the veins of the suicide victim, the victim itself, a cyborg, machinery scrape and constant flow of layered sounds overflowing from the speakers–just brilliant! Track two is a dollop of corrupted noise, Deison taking the guitar based sounds of Thurston Moore and dismantling them into the trash compactor clutter of "Super Tuscan." The original take is one of Thurston's best ambient guitar pieces, layers radiating while an unknown beast peels skin off of the belly of the machine.
---
DIRTY BLIND VORTEX ON ???
Coupla lessons in absorbing enough turbulence by Italian screech 'n' humster, Deison, including a decomposed & reassembled piece by Thurston on one side, 'Super Tuscan'. A new way to de-evolution & re-construction of sounds by this new italo-master!
(unknown source)
---