DEISON/JOHN DUNCAN
(10", 13/Silentes,2020)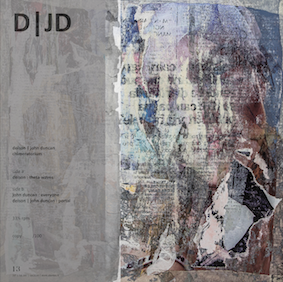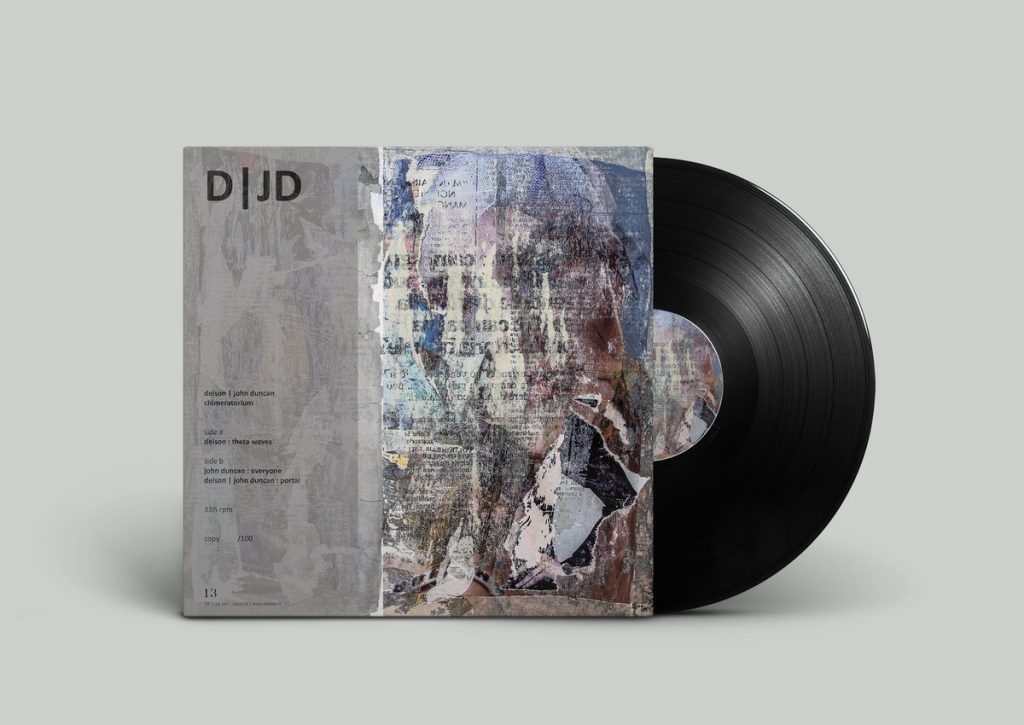 1.Deison – Theta Waves view
2.John Duncan – Everyone view
3.Deison & John Duncan – Portal 04:11

"Chimeratorium" is based on an audio dream Deison had, dreaming about a new piece together with John Duncan, they were in a large room, an old church sculpting frequencies repeatedly for hours; sounds and frequencies have been then recreated in the studio according to that particular event becoming long beautiful suites "Theta Waves" and "Portal", a collaboration track by these two artists.
John Duncan, one of the most consistently confrontational, powerful, and compelling masters of experimentation of the last forty years here is also presenting also an unreleased track "Everyone", an alternate mix of a track that will appear on the upcoming album called "Soft Eyes", a project that came directly from experiences and inspirations during the "Red Sky tour" in Japan Duncan did with Eiko Ishibashi, Jim O'Rourke and Joe Talia.

Theta waves
Sounds recorded, processed and mixed by Deison at 1st Floor Studio, Varmo (Ud) in February,2020.
Everyone
Vocals: Francesco Cossu, Mattia Bonafè, Elisa Mazzola, Yelena Mitrjushkina, Ivan Pjevcevic, Tullia Benedicta
Percussion: Francesco Cossu
Recorded by Francesco Cossu in Sicily, John Duncan at Pieve del Pino and Ivan Pjevcevic at Narcissos Gallery, Bologna.
Mixed by John Duncan at Pieve del Pino.
Portal
Recorded and mixed by Deison at 1st Floor Studio and John Duncan at Pieve del Pino.
Mastering by Ivan Pjevcevic for ShortStraw, Bologna.
released June 1, 2020.
---
CHIMERATORIUM SU ONDAROCK
Un antico e ampio spazio liturgico in cui si espande, senza soluzione di continuità, un'interminabile sequenza di suoni e riverberi. Nasce dalla fertile attività onirica di Cristiano Deison "Chimeratorium", trasposizione nel mondo reale di un sogno sonoro che lo vedeva plasmare infinite traiettorie risonanti in compagnia di John Duncan. Seguendo le indicazioni del proprio inconscio, il musicista italiano ha coinvolto l'eclettico artista americano nella realizzazione di una nuova opera composta da due contributi individuali e un terminale capitolo condiviso.
Sature frequenze sintetiche si sviluppano in lento e costante divenire generando una scia sonica pervasa da un sottile, crescente senso di inquietudine. È un magma denso che si muove inesorabile, assumendo nella prima metà del lavoro affidata alla solitaria strutturazione di Deison la forma di un lungo movimento intriso di oscura solennità ("Theta Waves"), per divenire algido soffio colmo di palpabile tensione nel suo conclusivo frangente scolpito a quattro mani ("Portal").
Tra le due parti di questa visionaria deriva si incastra "Everyone", enigmatica traccia firmata da Duncan che in diversa veste comparirà nel suo prossimo disco intitolato "Soft Eyes". Fedele all'immaginario vorticoso e vivido del suo autore, la traccia costruisce un ammaliante intermezzo in cui si incontrano/scontrano ruvide trame percussive ed evocative modulazioni vocali, affidate tra gli altri a Francesco Cossu e Tullia Benedicta, generando una convulsa danza rituale dal sapore ancestrale.
Breve nella sua durata ma intenso nella sua evoluzione, "Chimeratorium" conferma ancora una volta il profondo valore delle sperimentazioni di due artisti proiettati verso orizzonti affini seguendo percorsi peculiari.
---
CHIMERATORIUM SU RUMORE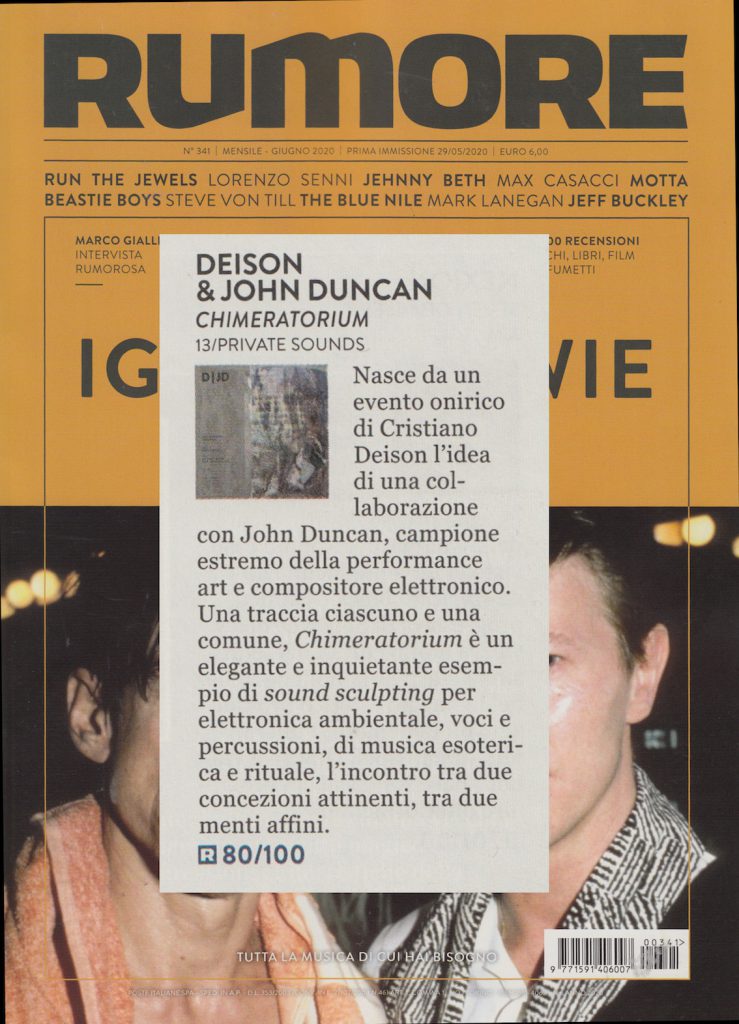 ---